Happy Tails
Happy Tails: Our Success Stories
From time to time, adopters (or their LRR dogs!) will send us stories and photos of their new lives together. We love hearing from you and are delighted to share these stories here on our web site.
Khaleesi (formerly Cookie)
Khaleesi, formerly Cookie… She's our snuggler/cuddler! Loves to bury her face in your chest and snuggle in as much as possible. If you're sleeping, she cuddles up right next to you in the cruck of your back. Of course, her dog bed is the couch where she rests her head on the arm. If not sleeping, she is looking out the window and yelling hello, she's a quite loud barker, to every dog that walks by. She is quite the conversationalist when we have company, but quickly settles down and becomes part of the gathering. She is the epitome of a lab in age, but not in retrieving. You wouldn't think she had just turned seven, except that her color has faded a bit. She's as young and spry as the day we got her. Her sister, Ygritte, a three-year-old Bernese Mountain Dog keeps her young. Our pretty calendar girl, always with a smile on her face is our Labrador reliever – she just doesn't like fetching. She leaves that up to her sister! Khaleesi is the bright spot in our day. Always ready to greet us when we come home. We love her so.
Daisie
Hello all - Daisie here. I have been in my 'forever home' with my bestest buddy (Harley) for almost two years. My parents have come a long way and I believe I want to stay. Harley definitely wants to stay as she cannot keep her black rubber bone out of her 'trap'. We are being well cared for and are thankful we could save these pathetic humans from a life of boredom. We get to investigate the neighborhood at least two times a day. I pretend I can't poop in the yard so I get an extra walk in the morning. Harley has mastered the morning poop in our yard but enjoys the two outings for our constitution.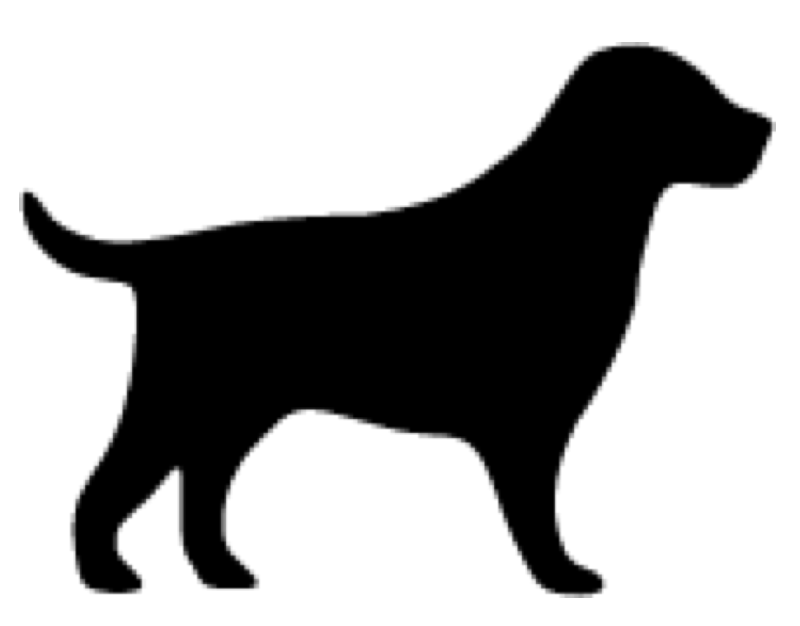 Kody
I was going to write you this week with an update on Kody. We are sooooo in love with this dog. He is adapting well to the routine of the household. He goes on 2 walks a day and has playtime in the yard. I go home during my lunch hour and play fetch with him so he settles nicely for the afternoon. I stayed home from work for a few days last week and that worked well with him adjusting to his new surroundings.
Brandy
I thought I would write to let you know how Brandy is as it is now 5 months since we adopted her.
Boomer
Hope you all are doing well. Boomer is doing great and happy and healthy except for a few old man Lab bumps! He recently passed his CGC and is a therapy dog with Pets on Wheels. He loves going to visit the elderly and kids too. Attached is a recent picture of him with his dad, Bill, before visiting a special education elementary school, and a picture of Boomer on his favorite "dog bed."
Toby
Oh my gosh — it couldn't be going better! They're playing tug of war now, something new for Phil! Rosie, Phil and Toby are all very cuddly with each other; Phil often gives Toby "kisses" (kind of a preening he does) and all three of them rest with their heads on each other. It's so cute! Overall, Toby is very well behaved and fitting in very nicely. We couldn't have hoped for a better dog!
George
Georgie has been here for 6 weeks now, so I thought I'd let you know how things are going, and send you some pictures that were taken on 4/19/2014.
Phil
Good morning! Right now both Rosey and Phil are resting after some romping around the house and in the yard this a.m.! They love playing with each other, although mostly there's been a lot of antler chewing and toy squeaking. Some photos from yesterday are attached …
Bean
Its been just about a week since we adopted Bean. We just walked down to the vet for his check-up, and everything was fine. The vet said that she thought he could stand to put on a few pounds, so we'll be upping his food a bit, at least temporarily, but otherwise he's good. She also thinks he's somewhere from a year to a year and a half, though she also thinks his long legs and tall frame might indicate some large breed in him, along with the retriever, so he might still be growing. I guess we'll see. :)
Dyna
Dyna's has celebrated her 5th Birthday so we decided to send a note to say hi.
Maddy
Maddy's celebrated her 10th Birthday at the beginning of the summer and we decided to update everyone on how she is doing.
Porter
It's been so long, I just wanted to provide a quick update on Porter. He is a wonderful, sweet dog and we couldn't be happier that he found us last fall. He is still ball obsessed (no tennis balls in the house!), loves his walks, and will counter-surf at the first opportunity (we've learned, slowly, but we've learned). Mostly, he is a perfect velcro dog and we adore him.
Chica (formerly Chicka)
It's me, Miss Chica. I got adopted on May 22 and am now living the good life down in Southern Maryland. My new pack members are an older couple who were looking for a mature dog with a calm personality (sounds just like me!) and I was looking for a new pack so it was a perfect match.
Odie
Its six months since we adopted Odie so I thought that I would give you an update. Odie is a wonderful dog! He fits right into our house and has become great friends with Bailey (our other dog) and also our three cats. Odie loves his toys and he will always rush to the door to meet us with a stuffed animal in his mouth. He loves to play tug-of-war with us and also with Bailey.
Margo
Hello to all my friends at Lab Rescue! It is three years since I moved to my forever and ever home :-). I am happy, healthy, busy, and very much loved.
Maggie (formerly Misty)
It's us – Maggie and Sudley (formerly Misty and Paisley/Lee). You can call us Mags and Suds though – that is what our friends call us – and heck, you guys are family!!! We wanted to drop you a note to fill you in on how lucky we are to find our forever home!!!