Doyle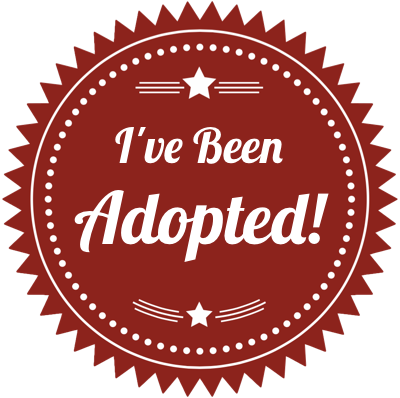 Doyle
My name is Doyle. I have a story to tell you - so please keep reading! I am a black male, neutered, have my vaccinations. I am housebroken and crate trained. I love other dogs, I weigh about 80 lbs.
Okay, here goes - I'll try to make my long story a short one. I was a stray in the shelter. My owners didn't come to claim me, and LRR decided to take a chance on me.
When LRR picked me up from the shelter I had a big lump on my face. It didn't look good, and no one knew what it was. Off I went too see a nice Doctor. She xrayed my face, and looked me over really good, seems that I had a "radicular cyst". It is a cyst that gets between the tooth and the nerve of the tooth. These things just grow bigger and bigger, and my face and tooth hurt so bad that I didn't want to eat. Well, I had the tooth extracted, and cyst removed, it was not anything to worry about, just needed to be removed. What a relief - within a few days I was eating, and feeling so much better. The surgery to fix all of this was very expensive and extensive - I am so happy that LRR thought I was worth it.
While at the vets office, they tested me for heartworms. Yep, I was heartworm positive. That means I have worms that live in my heart. They have babies that move through my blood stream that will eventually become adults, and the cycle will continue. There is a treatment for this. So, my next visit to that nice Doctor was for my heartworm treatment. I had to get some shots into my lumbar spine muscles, it was painful. I really felt pretty bad for a few days, but I'm doing well now. And we are just waiting for the heartworms to die. Don't worry, I'll be as good as new really soon. But I have to be calm for 8 weeks; I really am ready to get out there in the yard and chase tennis balls - this waiting is not fun!
LRR took me out of the shelter and took care of all of my medical needs. All the while everyone is saying what a nice, handsome dog I am, how well adjusted I am and since no one had an age on me, I was aged at 4-5 years old. When my foster parents were ready to microchip me, they found that I already had one! And they contacted my original owners. My original owners had to give me up sometime ago because of some unfortunate problems in the family. So I have had 2 owners. LRR learned lots of things about me, and learned my age - I am TEN years old; thats right, 10 years old…but keep reading!
I really fooled everyone, I don't look or act 10. Being "a 10" really means I am the best–you know, "on a scale of 1-10, with 10 being the best"–that's me, THE BEST!
Now more about my #10 personality. I love to play with other dogs, I like the water, I'll chase tennis balls, love car rides and I'll be happy to cuddle with you and watch TV. I don't get on the furniture, I don't want to sleep in your bed, but I do want a nice soft, comfy spot to sleep next to the bed. Now, in the mornings, I love to come into the bed to give kisses and cuddle a bit…and I can get up on the bed by myself - I am not like those old guys that can't jump up there. I know some basic obedience commands, I am great at sit and stay, and I'll shake paws with you when we meet. Above all I am very polite!
LRR told me that older dogs are hard to place and I might be here for a while. But if folks would just meet me, they'd realize that I plan to be around for a long time. Take a look at my face, not a speck of grey; and you should see me chase those tennis balls, I can keep up with the young ones around here. With me, you get maturity along with all the fun of my personality. So what do you say, would I fit into your life?
If you wouldn't consider an older lab, maybe you could help LRR with my expenses. They have spent a lot of money on me with my expensive tooth surgery and the heartworm treatment. I am ever so grateful that LRR saved me and gave me a 3rd chance!