Rosie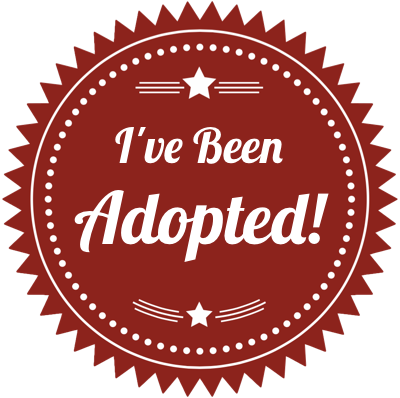 Rosie
Good morning! My name is Rosie Rose. I was rescued on Memorial day and my foster mom named me after Rosie the Riveter. I am a chocolate female, about 4-5 years old, up to date on my shots and crate trained. That was the easy part for LRR to learn about me. I have been a medical challenge for all the vets but with any luck as of last week, I have started a whole new day. I am strong…."We can do it!"
I was found as a stray at a lumberyard with my traveling buddy Ike. The lumberyard learned who my humans were and called them, but they said they didn't want us because we kept getting out. So, we were taken to the shelter and found our way to LRR. When I arrived to LRR, I went straight to the backyard, without passing go to get a BATH. Apparently my aroma was not appreciated. Im not sure what they expected with me outside all the time, bleach spots, and rolling in anything I could find. It was all good with me I love playing in the hose, the water and LOVED the massage.
At that time, I was put on an antibiotic for a likely ( but unfortunately not) urinary tract infection. After a few days, the meds were making no progress and I went back to the vet. It wasn't a UTI. While at the vet, I was spayed, given my shots and had a very odd cyst removed from my tail. The cyst was full of yucky stuff. Lucky for me, it was all rather uneventful. They learned I had all the right number of kidneys, bladder etc. However, I was still leaking urine. Cutting a little to the chase, I visited a specialty vet who didn't really have any answers and then made a long trip up to University of Penn where I spent a few days being poked and prodded. Something no girl really likes. It turns out I had bilateral ectopic ureters. My right ureter was the worst the vet had ever seen. It took quite a while and lots of students and vets, but they think they got my tubes in the right place. I have been recovering for about 5 days and with any luck things are on the mend. My foster mom is cautiously optimistic because there are times when dogs are continent immediately but after time regress.
Enough of the boring details. I am a lover. I am a sweetheart. I am a retriever, a fine fine retriever. I am cute and so very easy going. I am super out of my crate, don't chew things that I shouldn't. My foster mom really can't add much more since, it is just that simple. I may be shy at first, but I warm up quickly with a little sweet talking.
Its been a busy free weeks for me, but please please if you have any well wishes you can share with me, I would be ever so grateful. I am very tired of all the vet trips and would much prefer just to hold the rug down at the house and be snuggled.
I will write in a few weeks as LRR sees me heal and how I am doing.
We can do it!