Ike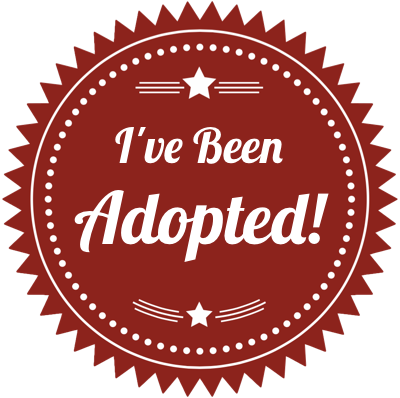 Ike
Well…its Me, Ike. I am Rosie's partner in 'crime'. We were brought into LRR on Memorial Day and my mom thought I needed a nice big name and Ike would do. I am a yellow male, probably also about 4-5 years old. I am neutered, crate trained, housebroken and up to date on my shots. Im a bigger boy at about 90lbs. I'm a great big loving huggy bear that would, if you let me, camp out continuously in your lap.
As Rosie said, I usually let the women do the talking, we were found exploring at the local lumberyard. They called our owners and our owners said they did not want us back because we kept getting out. So, we made a short stop at the shelter and then headed to LRR. I also got shuffled outside immediately for a bath but unlike Rosie, could take it or leave it. She's much more into the water.
I too visited the vet but my trip was much less eventful that Rosie's. I was neutered and had a tooth extracted because it seemed that I might have chewed on something I wasn't supposed to have at one point and cracked it. Anyway, I didn't need it. I snarf my food using the inhale method…no need for teeth. And I don't use my teeth for anything else.
I really really enjoy playing. We can cuddle and be close and that's nice, but I do like to get out and stretch my legs. Not much of a retriever of things, but I love a good game of chase. If you have any dogs, friends with dogs, daycares with dogs, I would be very happy. I may not be super fast, but I'm one smart Ike. I have been called lumbering (ha ha, get it. Just like the lumber yard) Ike since I am a little bit out of shape still.
Indoors, I can flop nearby for a time, but any movement by the humans gets me up and headed in their direction for attention. I just love a good rub or scratch! Command-wise, I am good at Sit but the Stay part needs much work. I just want to be right next to you so that makes my head spin and overrides that silly stay part. But I am trying and I really aim to please.
I am really looking for a fun loving household. I'm not high energy but I do like to get out and do things. Send in an application, I am looking for a lap to call my own.