Phil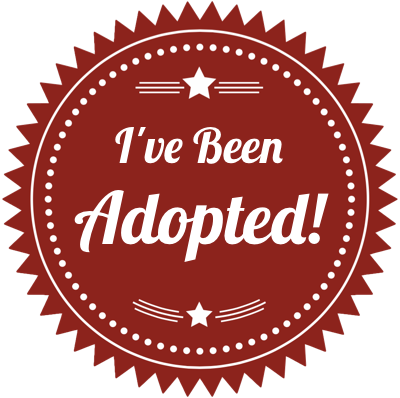 Phil
Hello. I am Phil. I found LRR on Groundhog Day and I didn't have a name, so they named me after the groundhog. I'm glad they didn't decide to call me Punxsutawney! I'm a black male Labrador Retriever, housebroken, crate trained, neutered and up to date on all my shots. I was a stray to a shelter, so that's about all anyone knows about me. They think that I am about five years old.
I'm so glad to be with LRR. I've been on my own for awhile and it was hard to find enough to eat. I need to gain a few pounds. LRR has been helping me with that, giving me lots of good food and clean water. I eat every bite! I'm a tall boy and once I reach my ideal weight, I'll weigh about 78 pounds. My foster mom says I have a very handsome face.
Since I've been living alone, I'm a little nervous about things. Living outside, I never knew which people would be nice to me and which ones wouldn't, so I take my time getting to know people. Once I do, though, I like to lean up against them and get pets and scratches. That feels so good! My foster mom and Labbie foster sister are helping me get used to being in a house. I like to explore things in my own time, just looking and sniffing. Don't worry though. I know which things are yours and which things are for dogs, and I don't bother things that don't belong to me. I do sometimes like to rearrange the locations of the dog beds. My foster mom keeps moving them back, so that's a never ending job!
There is a lot of interesting stuff in people's houses and sometimes I get startled when things make noise or doors open. I'm getting used to this life pretty fast, though. It's nice to have a warm, soft bed when it's cold outside. I'm learning about toys too. Right now I pretty much just like the ones that are like food. My foster mom gives me these things called marrow bones and I love to chew on them and get the food out of the middle. My Labbie foster sister has a bunch of other things but I haven't quite figured out what to do with them yet. I'm content to just hang out quietly in the house and watch everything that is going on.
My foster mom says that LRR helps all of us dogs find our perfect homes. I think I could live just about anywhere. The best place for me would probably be one that isn't too noisy, since I do still get startled sometimes. I like to go for walks and I'm pretty good on a leash, so someone who would walk with me would be nice. Also, I'm learning how to sit when my foster mom tells me to, but so far that's really all I know how to do. I'm a fast learner, so it would be great to have someone who would teach me things. We could learn together!
So what do you think? Could we celebrate next Groundhog Day together? Send in your application and I'll be enjoying some snacks while I read through them!
UPDATE 3/28/13: I have been with LRR a little over a month and I think I am finally getting the hang of this whole family dog thing, which is pretty awesome. I stayed with a foster family that had two children, a 4 year old little girl and 2.5 year old little boy and I have to say, kids are pretty awesome, especially the little boy. He and I did EVERYTHING together, I especially loved it when he would curl up next to me and pet my nose or rub my belly. I am very gentle with the kids, my foster mom was so impressed. At night my foster parents would let me sit next to "my boy" and read books, it was pretty fun. I was little bummed because I didn't get to stay the whole night, but it was ok, my foster mom and dad let me sleep on a dog bed in their room and when the kids woke up in the morning they would come in a play with me until mom and dad were ready to go! The only thing, sometimes I think kids toys are my toys too, but seriously, how do you tell the difference? They are all plush and make noise. Mom would make me give them back, besides being a little wet, they were fine.
I also lived with three other dogs at my foster home and they taught me how to play! At first, my foster mom laughed at my playing skills, she said I was all legs (I am a tall boy). I told her to give me a break, I was new to this whole "playing thing", but the end I was running around and playing with all three other dogs. We would get the zoomies in the backyard, it was SOOO much fun. I even played on the kids swingset a few times, I liked the rockclimbing wall. A few times I got rolled in the mud, I thought it was GREAT. I also like going on family walks, I get a little excited when I see a squirrel, but what dog doesn't, they were meant to be chased.
Don't let me new playful lifestyle fool you, I am still a well settled boy in the house, I have not met a couch I don't like. I am getting really good at ignoring loud noises, have you ever heard two Tiny Tykes Lawmowers being pushed around by two toddlers? If that doesn't rattle you, nothing will. I would really like to find a family of my own. I would love to have another dog to hang out with and play with and if I could find my very little boy to play with that would make my day. I look forward to seeing the applications roll in and starting my new life.