Josie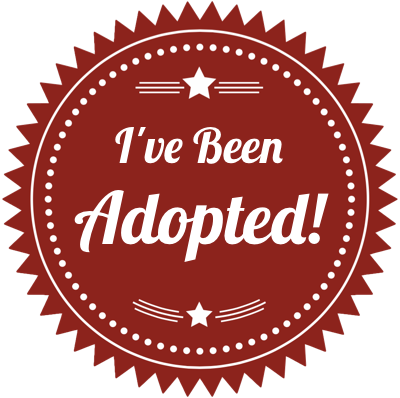 Josie
Hi, I'm Josie, a 2ish-year old 75lb black lab. I can't remember my dog mom and dad but the shelter I'm from said that I might be a lab/mastiff mix. I've got a short, squat snout so my foster parents say it looks like I ran full-tilt into a wall and smooshed my face, but they still think I'm pretty darn cute so it really doesn't matter.
I've had a bit of a rough start in life. I was left home alone, a lot, so I coped by going out lookin' for love. That didn't work out so well because I wound up at the shelter. My owners came and got me but I still wanted to love for more love. I actually became known as "frequent flyer" to the shelter and the last time no one came for me. All the people and dogs in the shelter loved me so much (naturally) that they kept me longer than usual and then called the folks at LRR to take me to a better life.
I'm just a really big lover. My foster mom says I don't realize how big I am but come on! If I can fit into your lap, why shouldn't I try to wriggle into it? It puts me in the perfect position to give you tons and tons of kisses. If you show me any eye contact or attention, I am the happiest girl in the world and I want to just express my happiness to you.
I also really love other dogs. I feel like they should be as exuberant towards me but I'm starting to realize that maybe some dogs prefer a little more personal space. I want to just play, chase, and bark all in good fun. My foster mom says I don't understand that not all dogs like to play that way but I'm sure I can convince them! I spend a few days at doggie daycare with my foster brothers enjoying the time when my foster mom/dad were working. Now that was FUN! I got to play with big dogs, little dogs, fluffy dogs and smooth coated dogs. It was great.
I'm a pretty good walker but my mom says that I get so excited seeing new dogs and people that I turn into a bit of a puller (cough cough I think her exact words are "unstoppable force"). We're working with a gentle leader to try to teach me a little patience and walking manners.
In case you're starting to think I'm just a big crazy girl, I'm really not. While I enjoy a great game of play and I do love to give affection, I settle down really well in the house. I'll follow my foster mom around the house to see what she's doing but then I'll just lay down in the same room and relax while she does whatever stuff she has to do. I play hard and rest hard too. I really like to be close to my people. LRR thinks I would do best with a family that spent quite a bit of time around the house. If you need to work from home or are retired, I'd be happy to be your silent partner.
I'm looking for someone who wants to meet an affectionate, playful, and kinda-goofy girl. I'll make you laugh and smile and will be there if you just need someone to be next to you during quiet times. Ideally you would be home a lot so we can hang out together and become best buds. If you want me to accompany you places I can do that too since I love riding in the car. One last thing, my foster mom wants everyone to know that I'm also crate-trained, up to date on my shots, spayed and housebroken.