Roscoe (formerly Bosco)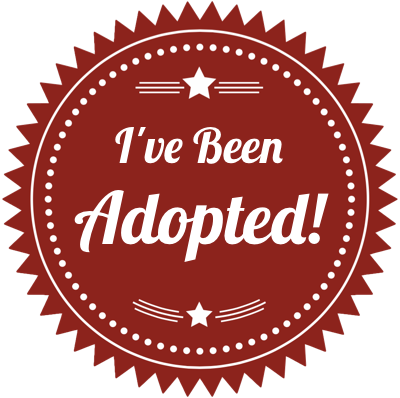 Bosco
Hi folks, my name is Bosco. I am a chocolate lab, male, neutered, age 6 and I love everyone - dogs, kids, cats. I am a bit overweight and need to lose a few pounds, well, about 15-20, but thats a few, right? Please read on, you have to hear my story!
I came to LRR from a shelter where the folks really liked me a lot! My owner passed away about a year ago. There was no one to take care of me except my owners son. He tried to do his best, but I lived a long way from where he lived. So he came out to bring me food and water, but most times I was alone. I also had to live outside since there was no one to take care of me.
Well, during my last year, I got fleas really bad, and some ticks. As a result of the fleas and ticks I look pretty bad. I lost most of my hair from the fleas biting me, and me biting them. I also got a skin infection because of it. And I even got lyme disease because of the ticks. You don't know how horrible it is to have fleas and they just won't stop biting…so I kept working at getting them off, it was a full time job. And after a while my skin started to hurt and I had some open sores.
Thankfully, I was finally turned into the shelter. The shelter immediately started working on me. They got rid of my fleas and ticks and made sure that my skin was starting to heal. And they called LRR to see if they would take me in and and find me a great new home. So, here I am, and I am so happy to be here - I really needed LRR to help get me better and find my new forever family.
Immediately, LRR got me a bath - boy did that feel good! And my foster folks are giving me meds daily for my lyme disease. My skin is looking pink and healthy, my hair is coming back. and soon I'll be handsome again!. BUT, it will take some time for me to look normal; and it will take even longer for my lyme disease go away.
The rescue isn't ready for me to leave and find a new home yet. They want to be sure that my recovery continues and that I am ready when my new folks come along. So, I'll be here for a while - I hope that you will check back for updates on my recovery and be sure to check out new pictures as they are posted. I also was told that I'll be checking out some other foster homes from time to time, I'll be spending some time with a cat, and some kids, and lots of new people. I'll be sure to post stories about my adventures with LRR.
In the meantime tho, if you think that you'd be a good home for me, I will be reviewing the new applications as they come in. Check in again soon, okay?!
UPDATE 8/9/12 - I am doing great. My hair is growing back, and I am itchy! I am loving all the attention I am getting. Best of all my foster parents really like me! But they say that I snore from time to time …. must be that I am so calm and comfy that I can relax.
The rescue vet thinks I might have a torn ACL that will need repair. After my hair grows in a bit more I'll see a special vet to find out about my ACL. I hear its an expensive thing to fix, but they say I'm worth it. More later - check back again! SEE UPDATE OF 11/5/12.
UPDATE 10/15/12 - My hair is almost grown back, I am doing great. And it turned out that I had a broken toe…but that is doing great as well. I am loving life and ready for a new home!
UPDATE 11/5/12 - My hair is grown back and I look great! My toe has healed nicely, but LRR learned that I have Hip Dysplasia. The vet did some xrays and said that my hips are bad, BUT I am doing fine and don't need any surgery at this time and maybe never will. I do have to be on a supplement to help, and some meds as needed. Remember that hip dysplasia is a self limiting condition, and I can still be a normal dog. Its sort of like humans with bad hips or knees. So please don't count me out! LRR will be happy to talk to you about this and we have xrays to pass on to whoever adopts me.
So I am ready for a new home - my foster homes all love me, they said I am easy going, well behaved and a joy to have around. So, send in your app and lets get together!