Harley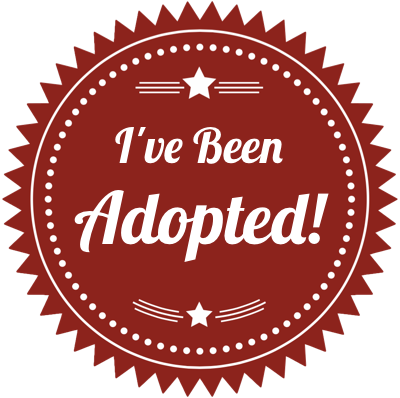 Harley
My name is Harley! I am a 5 year old, yellow male. I am neutered, good with dogs and cats, and kids. I am housebroken, love car rides, and I have a dynamic personality. I love people, and tennis balls! I am a compact 59 lbs, a little guy with a big heart and what a face!
I came to LRR with Dakota, he already found a great new home. We came from a home where our owner's boyfriend didn't treat us well. When our Mom realized that we were not being treated well, she made sure that the situation was taken care of we were okay.
Yes, I have a ton of wonderful qualities…but yes, there is always something that a dog needs to learn - and this dog is ready to learn new things! I need to learn to walk on a leash better, I do pull on the leash. But LRR says that Gentle Leader collars work great for that, and Dakota loves his! My second thing is that I get SOOO excited when I think we are going someplace that I sometimes bolt out of the door. I don't mean to, but I just love to go places. And yes, I do that in the car too. Some obedience training would help with these things.
I don't need a crate when I am at home alone. I am really not crazy about crates anyway. I like to just get my tennis ball and curl up on a dog bed and wait for folks to come back home. I don't get into anything, well, unless you leave something on the counter. Food on the counters drives me bonkers! So, my new family will have to make sure that they leave no food on the counters - I cannot be held responsible for what might be missing!
Toys and tennis balls - love, love, love them! I am happy to carefully roll the ball to you, and if you roll it back, it's right back at ya! But I can entertain myself too. I love chewing on bones and antlers (these are great things!).
If I could pick a perfect home, I'd have another dog to play with, but I don't absolutely need one; folks that don't mind if I don't like being in a crate; and most of all someone that will take me to obedience training. Kids would be nice too, they could play ball with me.
So, are you up for training? Ready for a game of catch? If you are, please apply on me - I'll be checking those applications regularly.