Hogan (formerly Snoopy)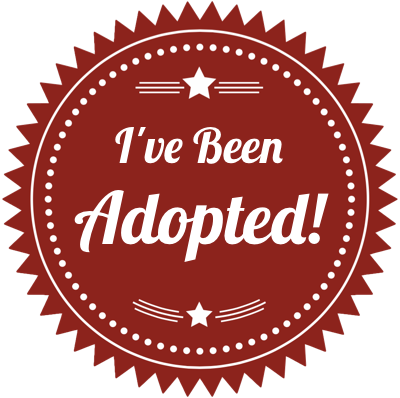 Snoopy
Yippy and Hello to everyone! My name is Snoopy. I am a robust 2 year old sweet loveable Chocolate Labrador Retriever. I am presently 110 pounds but am working to lose my "puppy fat" and get a sleek muscular figure. I am housebroken, crate trained, neutered and current with all my shots.
My brother and I were turned in to a shelter because our former family was expanding with 2 legged members and they did not think there was no room for us 4 legged kids- well at 117 and 113 overweight lbs…there probalby wasn't. They could have tried a diet for us and we would have been half our sizes and not so much "dog". My brother was rescued from the shelter by another rescue and I came to LRR. I don't understand why my family didn't understand that us labs can be a child's best friend. We are great to snuggle with when they are scared and we are great for sharing secrets. We are also good about cleaning their plates of their vegetables (but don't tell the parents about the vegetable thing)
Seeing as I did a lot of eating but I didn't get a lot of exercise before, I was allowed to gain quite a few pounds. I'm not currently as svelte and handsome as I can be. The nice people at LRR are taking me out for walks, exercise and swimming. I have been swimming at the Canine Fitness Center after my foster sister's swim. It is hard work but it is a great way to get in shape without stressing my joints. The nice people at the Canine Fitness Center are Lab people and have a soft spot for big easy going boys like me so they are donating my swim times to help get in shape.
I walk nicely on a leash, I nicely greet all dogs and even cats. I am really interested in trying to meet the cats in my foster home but I get a little bounce about meeting them and they don't seem to want to play. They typically just ignore me which I don't mind. I don't like it when they make that hissing sound. I have figured out to get away from them then they do that.
As a 2 year old I'm curious about life but very well behaved. I like to have a soft toy in my mouth. In my foster home I am only allowed to have soft toys on special occasions because my foster sisters like to destroy the soft toys and rip the stuffing out. I am gentle with my soft toys. I know the difference between dog soft toys and things I shouldn't touch. But fluffy slippers do confuse me.
I don't completely understand this tennis ball retrieving thing. One of my foster sister's seems to be a little over the top with chasing after the tennis ball. I like to chase after her while she is chasing the ball. I'm really good about retrieving the soft toys thrown for me in the pool.
If you are in need of a best friend who is low key, easy going, enjoys spending time with my people, walks and has lots of love to give, I'm your guy.