Roma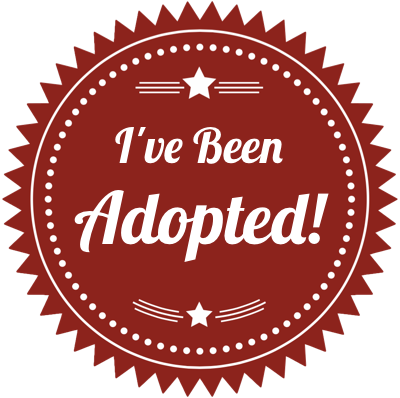 Roma
Hello, my name is Roma. I am an OH SO cute chocolate female, I have all of my vaccinations and I'm spayed. I am good with dogs, housebroken and crate trained. The guess is that I am 4-5 years old. I am a little girl and weigh in at 57lbs. SEE THE UPDATES AT THE END OF MY BIO, and be sure to see my new photos!
Like most of the LRR labs, I do have a story. I was a stray and ended up in the shelter. Thank goodness I was only there for 2 days though. When I got to the shelter they realized that I had very infected ears. My ears were red, and painful, and it appears that no one ever cared how bad they got. So, when LRR came to see Wilbur, they looked at me too. And I was lucky enough to go home with them!
When I got spayed, the nice doctor worked on my ears. Both of my ears had a deep cleaning. All of the infection was washed out, and I got medications in my ears so they feel much better. But, the vet says that one of my ears has a big polyp that needs to come out, unfortunately that means major surgery, and the complete removal of my ear canal in one ear. LRR talked to another doctor that said it will all be fine, and I'll feel much better - AND as long as there is no damage to my eardrum I'll still be able to hear. The other ear just needs a bit more work to clear things up and with some regular maintenance all will be fine.
My ear surgery was on July 18th. I did hear the folks at LRR talking about how much money it was going to cost, apparently, I am going to cost a lot more than Doyle. But I also heard them say what a great girl I am and how worth it I am. I am a lucky girl to have found my way to LRR.
I bet you want to more about my personality. I am a happy girl, and I can be really silly-rolling on my back, and playing with chew toys. I love to play with the dogs that are here, and I love to take walks, but most of all, I love being my foster Dads helper! I help in the basement, and I help him in the yard–you know he needs to know that someone is there with him. I think its very important for the Moms and Dogs to have someone just to follow them and keep an eye on them. Sometimes they just need someone to chat with and I wag my tail and give them little kisses; thats my job and I do it very well. When they talk to me, they think I understand all that they are saying, but you know how it is…just smile and wag your tail even if you don't have a clue - and they'll be happy as clams.
I went to stay at house with some kids. I liked them a lot, I am not super playful, but if they like kisses, I'll be happy to sit with them and kiss them. Kids are just little Moms and Dads. I had lots of fun with the kids.
I am a really laid back little girl, I can nap with the best of them. I do love a nice nap on the patio in the cool breeze; or a nice old movie to watch is good too - but I almost always fall asleep–unless we have popcorn.
My ideal home would be one with some folks that would love to talk to me, have me be their helper and loves little kisses. I wouldn't mind having another dog around, but I don't really need one. I am not a high enegy girl, medium is more like it.
Check back soon, you may get to see some photos of me after my surgery. Be sure to read my updates. But in the meantime, don't hesitate to apply on me, I may not be ready for a new home right this minute, but in a few weeks my search will begin!
7/19/2011 - I had my ear surgery yesterday. A really nice surgeon worked on it, and removed my right ear canal, and he cleanred out all the infection. So, I will no longer have a headache and ear ache all the time. The surgery went well. Now I have 4 weeks of recovery. I'm sure that you'll get to see photo's of me in my big hat…I know I have to wear it so I can't scratch at my ear while its healing. And I was told that in a week, I get the drain out of my ear, and then in 2 weeks, I get the stitches out. Check out my after surgery photos. That big clear hat covers my nicely shaved head. Don't worry, all my hair is going to grow back and I'll be a beauty again!
The Doctor said that I won't be able to hear out of my right ear, but so what, I couldn't hear out of it before the surgery. He did say that my left ear had some infection but it is clear all the way down the canal, so with regular maintenance I should not have to have any surgery on my good ear. That means that whoever adopts me MUST agree to clean my left ear weekly, and if an infection starts, we have to medicate. But you know all labs are prone to ear infections since our ears have flaps and it gets sort of hot and damp in the ears.
The moral of my story - be sure to check your dogs ears regularly - and if they have an infection, clean the ears, treat them and make it better; you'll be glad you did and so will your dog!
Check back again soon for more updates. I'll be making them regularly since I am SO happy to be fixed up - and I'll soon be ready for a new home!
8/3 UPDATE: I got my sutures out today! Doc says I am doing great - and I can get out of this cone hat next week! I can't wait. My ears are looking good, I am feeling good! But my hair is growing back and I am itchy, so my foster families are giving me some benadryl to make me feel better. Oh I got a bath today - from the neck down - and I feel OH SO GOOD! Also I am on some antibiotics for few more weeks - gotta make sure I don't get any infections.
The good news - I am REALLY close to being ready for my new home! So new family where are you??? I'm waiting!
9/26 Update: Hi folks, just wanted you all to know that I feel GREAT - so good that I am having a little puppyhood I never had…so yes, I am a bit more active and playful, and LRR is seeing a side of me that they never saw before. I didn't even know I had it in me to be a silly, goofy, puppy like adult! My hair is slow growing back - BUT - my life is wonderful. I am expecting some visitors soon - I hope I can contain myself and show them my very best behavior - I am so ready for a new forever home!!!