Buddy (formerly Wilbur)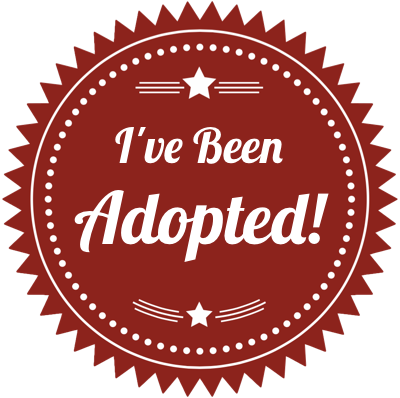 Wilbur
"OOOPS!" My foster Mom keeps saying that…..I'll try to find out why and let you know later in my bio. In the meantime, a bit about myself. My name is Wilbur (more about that later), I am a 2-3 year old Chocolate male, neutered, have all my vaccinations, housebroken and crate trained. I am little guy - weighing in at just under 50lbs. I love to play with other dogs, cuddle with kids, and I'm good with cats, haven't been with kids, yet, but LRR is sure I'll do well. I am a calm, settled, sweet, well behaved boy!
Got it figured out….seems that I stood in the wrong ear line - I got some other dog's ears, so my foster Mom keeps saying "Ooops, those ears are something". She said that I am a labrador MIX, yes a mix, all because I read the sign wrong and got in the wrong line. But all of my foster homes said that it won't matter, folks will meet me and know why LRR ignored my airplane ears. My foster parents all say that I have everything a lab should have in attitude and temperament, so they aren't going to worry about my ears, BUT…..
WILBUR is what they call me…as in Wilbur Wright, the airplane guy, all about my ears again! But since I've been here with them for a bit, they now call me their little "Wilbur Bud"…as in Wilbur chocolate, so sweet and wonderful, and something you can't live without! Ever tried a Wilbur Bud? This is your chance, you can have all the sweetness of chocolate without all the calories!
Do you want to hear how I got to LRR? I was a stray and ended up in the shelter. I was there for weeks. It was noisy and hot, nope, no AC. I got "fixed", although I didn't think I was broken. And I got Kennel cough, it made me cough and I couldn't sleep. But I'm all better now! As good as new!
When the LRR folks came to the shelter to see me I was on my very best behavior, hoping they would pick me. I went into the greeting room and immediately sat quietly and gazed into their eyes. I had them - I saw them melt! But, they spent over an hour with me, and they kept harping on my ears. They took pictures of my ears and sent them to other people in the rescue. Then they kept feeling my ears to see if they would lay down like labs ears. At one point I said "Hey, wait, I am mostly lab, can't you just give me a chance?" Finally I heard them say that they just couldn't leave me there, that I was so sweet and well behaved that someone would want me AND my airplane ears. I was really lucky because LRR almost never takes mixed labs.
I am very well behaved and a quiet boy, I walk nicely on a leash, I love to go for car rides, and I love to cuddle and take naps. On the flip side - chasing a ball and playing with other dogs is such fun. I could be all things to a family, a playmate for the kids and dogs, and companion for Mom and Dad when they need some down time. And I'd make a great travel companion for vacations. And no one needs to entertain me, I am just happy to be with everyone.
Let me tell you about the cat I met. His name is Hunter, I think he might be a hunter because he was inside of a big comforter hunting for something. I have no idea what he was looking for. But suddenly he jumped out, we'll it scared me at first, then I watched him for a bit. All this hoopla for nothing, he's just a cat, doing cat things; nothing important for me to worry about.
So what do you think? My ears aren't that bad, its sort of like having a bad hair day. Remember, if you ever get a chance, you should get yourself a Wilbur Bud, a nice sweet chocolate drop that is irresistable! What better way to indulge than to adopt me!