Dino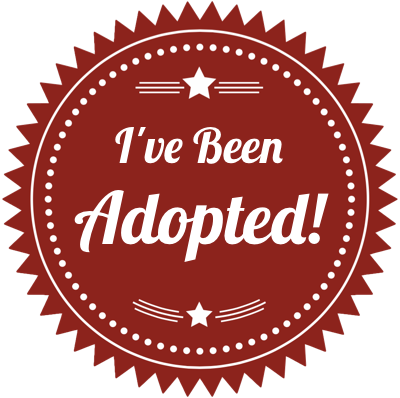 Dino
My name is Dino. I am a black male, I'm neutered, and I have all of my vaccinations. I'm housebroken, crated trained, good with dogs and I'm just about 1 year old - yep, I'm a young one! Don't stop here—-unfortunately, at my young age, I already have a story to tell!
Well, first, let me tell you that I am loving life! I am busy learning things, playing, napping, cuddling, and just doing some really fun dog things! I am so happy to be with LRR. Oh, that's right I am supposed to be telling you my story - I get side tracked now that life is good!
My first family got me as a little tyke. Unfortunately for me, they didn't want me to live inside. So, I lived outside during the day all the time. I didn't have any food or water that I could reach and I had no shelter. There were some kids that lived at the house too, and I liked to play with them when they came outside.
At night, they put me on a screened in porch in a tiny little wire cage. It fit me fine when I was a pup…but I grew and they still kept me in the little cage. It was about the size a beagle might be comfy in. Well, I was growing a like weed - and at 68 lbs, I was still being kept in that little cage on that porch.
Not sure how the nice people at the shelter learned about me, but they showed up one day and I got to go for a ride in a truck and I went to the shelter. I spent about 2 months there. While I was there I got sort of sick with a cold, and I lost some weight - I was only 54 lbs when I left the shelter just after the New Year. Don't get me wrong - I was happy to be in out of the cold, and to have a nice place to sleep and be in a place where I could move around. It was because my first family never got me shots that I got sick at the shelter. But I am feeling great now!
I had to stay at the shelter for a bit while my fate was being decided…was I going back to those people that didn't take care of me, or would the nice shelter people find me a new home, or was I going to be put to sleep (I told them that I didn't need a nap!)? As you can see, the shelter called LRR to come and get me. The folks at LRR will get the weight back on me, and find me a great new home.
Okay, enough about the bad part of my life, this is whats going on now. I am having fun….I have food, water, a warm place to sleep, people that play with me and talk to me, dogs to run in the yard with and the best part, when I have to go in a cage, it is almost the size of Condo and it has a nice warm, comfy bed in it! Wow, I never knew about those things called toys- they are everywhere in my foster homes. I could play with toys for hours; but then a good game of chase with my dog friends is fun too.
With the tough start that I had, LRR was happy to find that I am housebroken and I am a pretty good boy. But, I am curious about things in the house. Those things in the kitchen called counters - well, they have some pretty good stuff on them! I had some stuff called lasagna, and some white stuff called bread. Gosh it was good - and I am sure that if my foster mom hadn't caught me testing these things, I could have put on a few more pounds. Oh well, I'll try to get away with checking the counters when I get to a new place.
So, what kind of home do I need - I know you are wondering. I want a place with a nice big crate to keep me safe and out of trouble when I am alone. I want lots of toys, a nice fenced yard to play in, and I would LOVE to have a dog to play with.
The folks at LRR are going to cat and kid test me. Not sure what that really means, but they'll update my story as the test results come back. I hope I pass!
In the meantime, when you look at my photos, remember that I need to gain some weight, so my body looks skinny - but I'm working on it. The vet says that my full grown weight will be 80+ lbs…but no one knows for sure.
So, you are looking for a good looking, full of life, young companion - here I am, just waiting. Maybe we could even go to classes and we can learn to go for a walk while you hold my leash and I walk calmly next to you - how much fun would that be! I'm going to stop dreaming about my new home now - I'll just wait patiently for just the right one to come along!