Mocha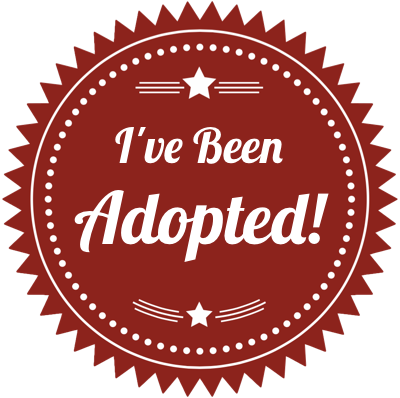 Mocha
My name is Mocha, I was born in February 2003, so that makes me about 5 years old. I am spayed, have all of my shots. I am housebroken and about 60 lbs. If you haven't guessed, I'm an adorable chocolate little girl.
I was given up to the rescue because my family was returning to Australia and they decided the trip was too far for me. I was brought up with 5 two legged brothers and sisters. I played with my siblings and even acted as a pillow for them. There were also hamsters and fish in the house that I got along fine when I was allowed in the house. You see, they had a plastic crate in the garage for me to use in the summer when the weather was nice. In the winter, they allowed me on a rug, just the rug, at the front door. When I would creep towards the family room, to be closer to my family, I would be told to get back on the rug. The rest of the day, I was outside exploring the yard.
I am settling into household life very well, and don't need to be asked twice to come close for petting and loving. My foster families are teaching me about how to act in the house. I'm fully housebroken and understand most commands. Now I'm learning about these really great things called dog treats. I tend to eat the treats and my meals slowly but am learning that in my foster houses if I don't learn to eat faster some of the other dogs try to help me finish my treats and meals. I don't mind but my foster mom gets upset when I give up my meal to my foster sister. I've figured out that the dog treats are worth eating right away, so maybe I won't be sharing them much any more.
My foster parents seem to enjoy taking me on walks, so I am learning how to walk nicely on a leash. I have this wonderful bright pink gentle leader which helps me walk with manners. I really like those soft squeaky toys but I'm really curious about what's inside so I have been known to destuff one or two. I did have some help from my foster siblings.
I've met some cats at my foster home and I'm not sure about them. They make this strange sound when I get to close and my foster siblings have told me to keep my distance. For now the cats are making sure I don't get too close but they seem real interesting so I may just have to check them out.
I don't like the crate but am completely trust worthy in the house for a number of hours with out being crated. I don't get on the furniture.
My foster family is helping me to build my confidence and understanding what is expected of me. I'm looking for a family that will realize what a great girl I am and will spoil me like every labbie should be spoiled.