Odie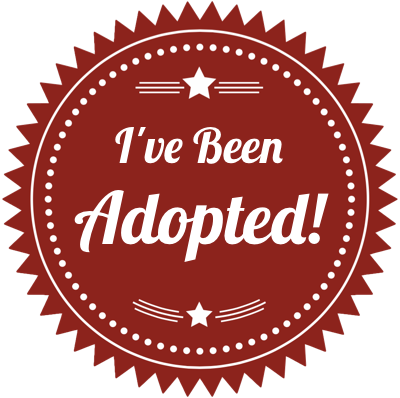 Odie
Odie is my name. I am a 3 year old chocolate male, I'm neutered, housebroken, crate trained, have all of my vaccinations and I am BLIND. Please keep reading, I want to tell you all of my story. Don't forget to read my update at the end of my story!
Yes, I'm blind, I am also heartworm positive and I have lyme disease. LRR is going to see that I am treated for the heartworms and lyme. And I will see a special doctor that will look at my eyes and let LRR know if I will need any special care of treatment.
I was picked up by Animal Control as a stray. The shelter couldn't believe that anyone would let their blind dog just run loose. I turned on the charm and the staff at the shelter loved me so much that they were determined to find a rescue to help me. So they called LRR, and I went home just before Christmas.
On Christmas I got new toys, yummy bones, and a new collar, and best of all, people that wanted me to be with them. The people kept talking to me, and the dogs played with me. I can't believe that I actually got out of the shelter before Santa Paws came–I was afraid he might not know where to find me!
But lets forget about my Blindness and heartworms for a minute, I want to tell you what kind of dog I am. I'm a very happy boy, I love life, I love other dogs, and I can find my way pretty well without my eyes. My sense of smell and hearing is great and that helps me to get around pretty well.
My foster Mom says that I am one of the best foster dogs she ever had. I adjusted almost immediately to everything. I know where the door is located to go outside, where my crate is, where the toy bucket is and how to find the water bowl…I figure those are all the important things. Now, when its time to eat, I know where my foster Mom and Dad fix the food, and I am right there, waiting and sniffing, then they put my bowl right in front of me and I get so excited. Of course, they do think its cute to see me get so excited, so I play it up for their benefit.
I am totally blind in one eye, and the other one is damaged enough that I can see only large objects in the daylight and they appear very dark. At night, I can see nothing. If you notice the photos at the end of my story, the eye that shows light in it is the one that still works a little tiny bit.
I'll be moving to a new foster home soon. I'll visit there until its time for my heartworm treatment. I understand that treatment is going to be tough on me, and expensive for LRR. But I guess they must think I am worth it.
Oh, if you look up "Odin" on the internet, you will learn all about who I was named after. I didn't have a name when I entered the shelter, so LRR needed to give me one.
Check back soon for updates on my progress. I won't be ready for a new home for quite awhile, but when I am, I'll be sure to let you all know that its time to go online and complete an application.
Have a Happy New Year…I plan to have a Happy AND Healthy one!
MY UPDATE - 1/26/08
Hi Everyone!!! I just wanted to let you know that I am doing great!!!! I have a foster mom who owned a dog like me before and she is teaching me special commands like "careful", "step up" and "step down". She talks to me all the time. I just love to hear her voice!!! She teases me and tells me I have big head. Doesn