Buckley (formerly Goliath)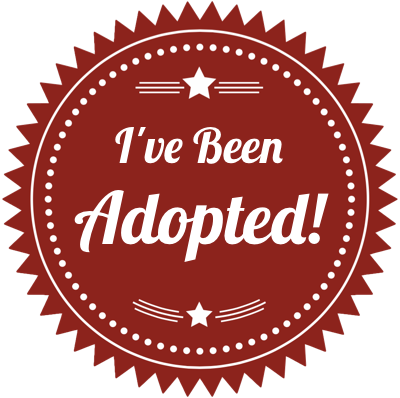 Goliath
My name is Goliath! I am a 77 lb, yellow male. I am neutered, crate trained, housebroken, and I am 5 years old - don't stop reading here just because I'm 5 years old - you would swear I am only 2 if you meet me! Besides I have a story to tell and you should read it!
My owner died, and then I started living at the end of a chain because the family didn't want me with them anymore. During that time I got Lyme disease AND heartworms. Living outside at the end of a chain can take a terrible toll on us!
Someone suggested that my owner call rescue about me, thank goodness they did. I went to a nice rescue in NJ where they took very good care of me. After my heartworm treatment and lyme medications, I was transferred to LRR so the other rescue could help a dog that needed some extra care. So, here I am with LRR.
My foster homes with LRR have learned lots of things about me. I am a silly boy, I think I am 2 years old, I love to play and chew toys, and they keep asking me if I am sure that I am 5 years old. You know what they say - you are only as old as you feel, well, I feel pretty young and spry!
I love the other dogs in the foster homes - we play a lot. I also really love to be petted. When someone is petting me, I relax so much that I fall over, then I lay on my back with my feet in the air - I figure I might as well get all the tummy rubs I can while they're handing them out.
Cuddling is lots of fun too, I love to be in a persons lap. Just picture this - you and I resting on the sofa on a cold day, snacking on popcorn and watching movies–how relaxing is that!?
My perfect home would have a pretty active person, that also likes to cuddle and hang out on the couch (I think LRR calls that a "medium energy" person). And having a canine companion would be nice. I even like kids, but I can get a little too excited to be with little children, so ages 10 and up would be good.
I still have to have a heartworm test in a few months to be sure that all of those nasty things are gone. But in the meantime, send in your application, I'll be checking them on line everyday.
Oh, and if you see any dogs at the end of a chain, let someone know, maybe they can be helped like I was. That's a horrible way for us to live.