Elmo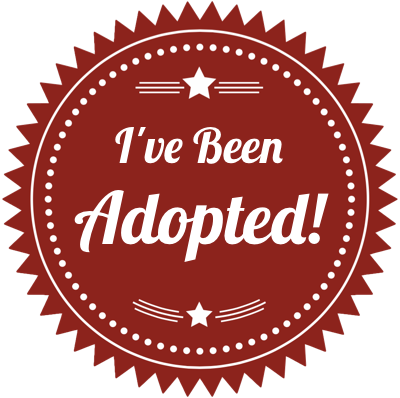 Elmo
Hi there, I'm Elmo. I am a cute little chocolate boy. I am neutered, housebroken, crate trained, and I love my doggie friends. When I say that I'm little, I am small in stature, I weigh 63 lbs. Oh, and I am about 1 year old.
I was a stray and ended up in a shelter. The rescue came to check me out and thought that I was as cute as I could be. So here I am in the LRR system.
I ride nicely in the car, I am not crazy about my crate, but I will go in and I settle nicely - and I sleep there comfortably all night long without a sound.
The rescue thinks that I must have been hit by my previous owners. I cower a bit if you raise your hand, and until I trust you, I have to be coaxed to come and sit near you. But, once I know that you will love me and cuddle me and talk to me, we will be great friends.
I love my foster brothers! We run and play. I love toys, and I love nyla bones, thats because I am going through a chewing stage right now. So, if you want to adopt me, nylabones are required!!
In the evening, after I have been busy playing or napping, I love to settle down and just hang out in the family room, play with my toys, watch TV and sometimes have popcorn - it's so good!
My perfect home would be one with another dog, since I love to play. I would also like an active family, I would love to go for walks, or hiking, and a car ride to McDonalds would be nice too. Can you tell I like to eat?
Oh, the rescue said that since I am young and impressionable, they are going to require that my new family take me to obedience class. I think it will be fun, just think of all the fun things we can learn together, we can be partners in this learning experience.
I'll be checking the mailbox to see if anyone sends in an application on me. I hope one comes soon! Am I your new family member???