Pet Tops
Pet Top Portable Drinking Device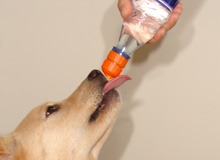 The Pet Top® portable drinking device for pets is a great accessory which comes in handy if you take your pet on long walks, to the park, or on trips. The Pet Top® is a unique patented bottle top which fits most standard water bottles, so you'll always have a ready source of water nearby.
Twisting the base of the Pet Top will adjust the water flow from a tight seal to a variety of settings for different sized dogs. Pets intuitively take to the device, especially if they're thirsty.
You can purchase online below through PayPal, or if you'd prefer, you can mail us a check or money order, along with your shipping address and list of what you'd like. Mail to Labrador Retriever Rescue, Inc., P.O. Box 246, Palmyra, PA 17078.
Pet Top
Price: $6.00 per Pet Top
Shipping: $1.40 for first, $0.75 each additional