Our Store
LRR Store
Our 2017 calendars are now available! Order yours today, or get one to give as a gift, and see the 12 best adopter-submitted photos from our calendar contest!
Our 2017 calendars are coming soon! Check back in a week or two to order yours, or give one as a gift.
Our
LRR Calendars
are sold out! Check back in the fall to order next year's calendar. In the meantime, enter your LRR dog into this year's
LRR Calendar Contest
.
Welcome to the LRR online store! Your purchases are a great way to provide financial support to LRR, enabling us to continue rescuing, rehabilitating, and rehoming Labradors in the Washington D.C. area.
---
Alumni Calendar
Our 2017 Calendars are now available!
Order yours today, or get one to give as a gift, and see the 12 best adopter-submitted photos from our calendar contest!
---
Rubits
The Rubit is a clip that you attach your dog's tags to. When you change collars, you just un-clip the Rubit from one dog collar and then clip it to the other collar. It's easy!
---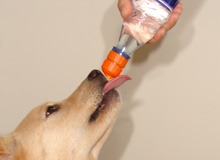 Pet Tops
The Pet Top portable drinking device for pets is a great accessory which comes in handy if you take your pet on long walks, to the park, or on trips. It fits most standard water bottles, so you'll always have a ready source of water nearby.
---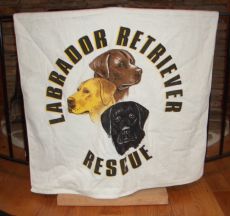 LRR Beach Towels
LRR beach towel measures 36" wide by 60" long. Perfect for using on the back seat of the car, drying dogs after swimming, covering a floor to keep doggy foot prints under control or just as a beach towel.
---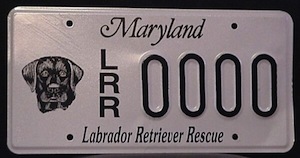 Maryland License Plates
Labrador Retriever Rescue and the Maryland Motor Vehicle Administration now have LRR license plates available! These license plates are available to LRR volunteers and past adopters only.
---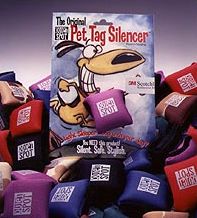 Quiet Spot
Quiet Spot is a unique, award-winning neoprene pouch that slips over a dog's tags, immediately ceasing the jingling of dog tags and eliminating the unsightly tag tarnish on the coats of lighter-colored breeds.
---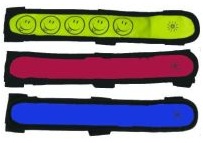 PolyBrite Lighted Collar Cover
PolyBrite's new lighted collar covers velcro easily and securely around a dog's existing nylon or leather collar, leash, or harness. Visible from up to one mile at night, in low-light, and no-light situations.
---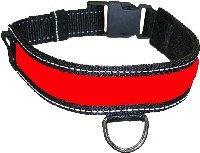 PolyBrite Self-Illuminated Dog Collars
Red lights and reflective red strip. Up to one mile visibility in low light conditions at night. Lithium watch battery for up to 250 hours in flashing mode.
---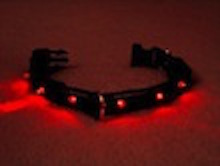 Visi-Pet Dog Collars
Blinking red lights on a black collar - visible up to 500 yards. Up to 100 hours of use with a AAA Battery. Water Resistant.
---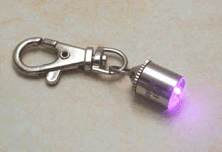 Pet Blinker
These water proof Pet Blinkers emit extremely bright, highly visible light, activated with a simple twist of the capsule sized device. Pet Blinkers work remarkably well from dusk to dawn, providing your pet with enhanced safety for evening strolls.