License Plates
Maryland LRR License Plates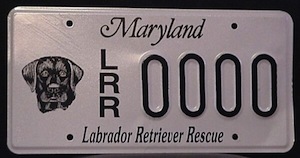 Labrador Retriever Rescue and the Maryland Motor Vehicle Administration now have LRR license plates available! These license plates are available to LRR volunteers and past adopters only. The cost is $50, with half going directly to LRR to help rescue more Labs, and half to the Maryland MVA to cover the cost of the plates.
Important - Please Read!
If you have adopted from LRR, or have been an LRR volunteer for at least 90 days, you can order your plates below via PayPal/Credit Card, or by sending a check for $25 to the address below. Include your LRR dog's LRR ID number and the name of the dog. If paying by PayPal, include that information in the "comments" section.
When we have confirmed that you are eligible, we will send you a form which you can take to the Maryland MVA to order the plates. The MVA will charge an additional $25. Note: You will be issued the next available plate number—it is not possible to request a specific number. Also, your vehicle must be registered in the state of Maryland.
You can purchase online below through PayPal, or if you'd prefer, you can mail us a check or money order, along with your shipping address and list of what you'd like. Mail to Labrador Retriever Rescue, Inc., P.O. Box 246, Palmyra, PA 17078
Requirements
You have adopted from LRR, or been an LRR Volunteer for at least 90 days
Include your LRR dog's name and LRR ID number in the PayPal comments section or your check
Your vehicle must be registered in the state of Maryland
Maryland LRR License Plates
Price: $25.00 now, and $25 at the Maryland MVA